WELCOME
TO KACKIS MICHAEL FINLEY

HOMEPAGE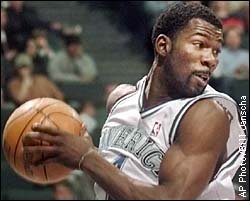 Be sure to visit this site often cause Itīll be updated. This site is for the fans, about Dallas Mavericks explosive smallforward and uncontested leader - Michael Finley.
The site includes videos, pictures, statistics, audio, biography, stats and much more. Please sign the guestbook so that I know wich people visit the site.If you have any questions or comments please e-mail me and let me know. If you by any chance would find a picture that I don´t have, mail it, or the adress to me. It will earn you a spot in the thankspage.
Enjoy your stay and spread the word that the best ever Michael Finley Homepage is in town. And itīs here to stay.
This page is optimized for viewing with 640X480 resolution
Markus Ramstrom, 98-99. I am in no way affiliated with Michael Finley, the Dallas Mavericks, the NBA, or any other group represented on this page, just a fan with a lot of time on his hands.